Joined

Feb 1, 2011
Messages

160
Reaction score

1
Points

18
Age

31
Location
Members Ride

Series I VY SS Ute 5.7/M6
Well, After I destroyed my VK, I got a pretty sweet job as a Power Pole Inspector and bought myself a BF Fairmont Ghia. But since my girlfriend decided she wanted to live in Emerald and i was based in bundy, I decided to give her the car so she could drive around and take my daughter to various doctors appointments and other girly things that I don't understand. Unfortunatly this left me without a car, so I decided 'FUQ DAT, IMMA BUY MAH SELF A CAR I WANT'.
Since Bundy is filled with hoons, There are a lot of nice looking cars for sale. Sadly 90% of them are auto or have been thrashed to the **** house.
But every now and then a nice one stands out from the crowd. And in this case it was my Storm, when I first got i, it had 155,000 on the clock and had a pretty good service history till about 100,000k when it was bought by some young guy and had the **** thrashed out of it. The gearbox had a bad whine and the diff made a strange clunking sound.
So right after buying her, I took her straight to holden and had the gearbox and diff checked, both were shot to **** apparently. I wanted a second opinion and took her to my local mechanic who said the diff clunk was normal and was a little bit worn but wouldn't give out on my for a long while, the gearbox on the other hand was a goner.
So being a cheeky bastard I took the ute back and claimed it under stat warrantly. A new box went in all under warranty, and I thought while I'm at it I would throw in the HD clutch and solid flywheel and a full service.
Model:
2003 Holden Commodore VY Series 2
Colour:
Delft Blue
Engine Type:
Ecotec 3.8
Engine Mods:
just K&N Filter
Power:
Not enough.
Exhaust:
Single 2.5"
Gearbox:
5 Speed Manual
Diff:
Limited Slip
Ratio:
3.07:1
Brakes:
Standard
Suspension:
fe2, Lowered.
Wheels/Tyres:
Pure Strongs in blue.
Stereo:
Pioneer head unit, 10 inch sub, Pioneer 720 watt amp etc.
Future Mods
Extractors
CAI
VZ Twin Hump hard cover
T56 6 Speed Manual
Exhaust tip for looks
ASR Dash conversion
Slotted brakes
Repaint rocker covers
Cam
Double row timing chain.
High ratio rockers
3.7:1 ratio LSD
And the holy grail... Maybe, If I hold my breath long enough... or I get off my P's... a GenIII or LS2 conversion.
Finished Mods:
Paint Interior
Paint rocker covers... poorly.
Heavy Duty Clutch and SM Flywheel
K&N Filter
Removed shitty 'HOON' Sticker... Replaced with a 'STORM' Sticker.
82 Degree thermostat
Things to get fixed:
Center console flip down compartment.
HID High beams flicker
Diff Clunk
Speedo is out.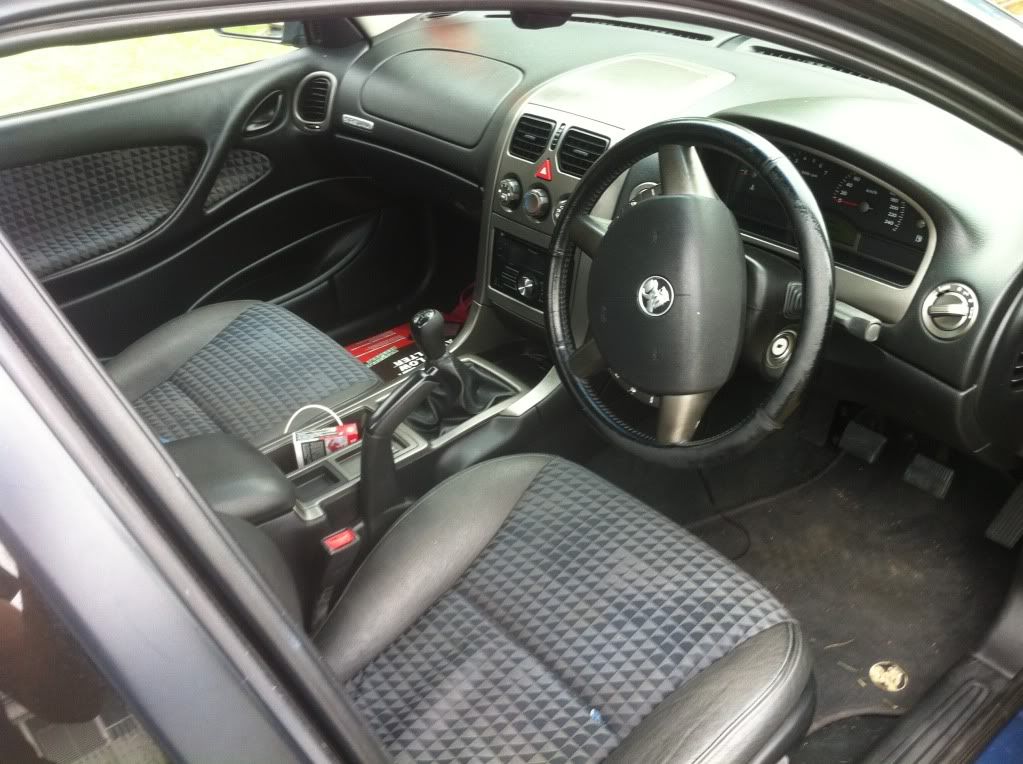 Last edited: