Hey guys the following is a quick step by step (with images) of my VP's custom 12" sub enclosure design/build.
I use my boot everyday so it was important that I utilised all free/corner space possible without compromising the subs requirments.
Sub: Rockford Fosgate p3 12" dual 4ohm coils - 500w RMS @2ohm
***requires 40-50L internal airspace - with 4x9" port***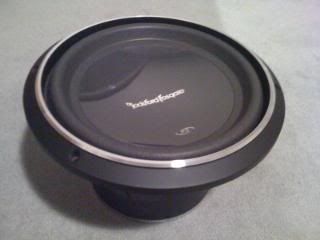 Initially I made several cardboard cutouts of the flat edges of the enclosure (bottom and 2 sides) this was a simple gauge of how much MDF to buy. (not much)
You then cut and shape these pieces out of 16mm MDF, glued and screwed them all together and planed angles into some of the edges to make them fit into each other flush. This gave the basic baseplate to work with. The square cutout of the back corner is to allow for the brake light housing. You'll also notice a semi-circle cut out next to the port to allow room for the towball struts in the boot.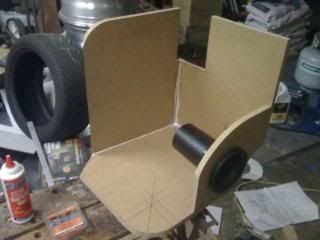 You then cut out a ring roughly 14 inches to house the woofer. Brace it in a way that it sits up stable enough to fibreglass over (ie with wooden struts). mine is angled as such to prevent the boot hinge from closing on it (2" clearance to allow for woofer displacement during use).
Hard to see but this is how it fits in thus far.
You then cover the entire surface with old material (ie T-shirt) and staple it down TIGHT! dont worry about creases or folds - they can be pinned later.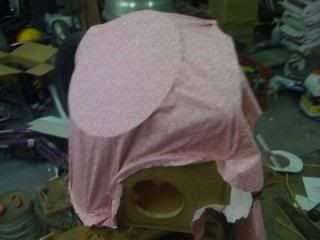 ]
Trim excess and draw a mark to show where in thering you dont need to fibreglass.
Pin the folds.
You are now ready to coat! Coat it in fibreglass resin, let dry, then fibre glass the whole surface and let dry, 1 layer should do as we are also bogging the hell out of it! But 2 layers is better. If you have never used carbog before - work quicky in small amounts, it dries very fast. You will need a straight edge for your final layers, this process should take ages for begginers so dont rush.
Once this is complete you'll have to sand down all the bumps smooth, fill all the new indents you have found. Once finally dry coat in PVA or any glue really and stick down some cushioning foam on the surface, only has to be 5mm or so thick just to give that nice pillowing effect.
Also seal all edges from the inside with an industrial wood glue or sh!tloads of PVA.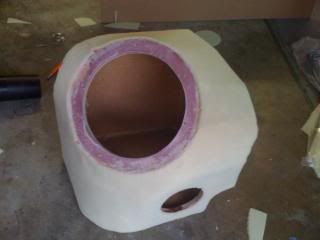 Time to upholster! This one is a Blue Suede material but you can use anything, staple gun required here.
Cut excess and staple inside the ring and port hole.
Srew in your sub and your pretty much done ( i have falied to mention the + & - terminals I hide on the back and also insulating the inner surfaces with an acoustic treatment you can buy from craft stores/car audio joints etc.
Final product! - they go really hard guys, I am running my current sub through a 500w RMS amp and its very loud, very puchny but still giving a great tone, and its quite heavy so it doesnt move around at all.
Goal acheived boot space taken up - minimal
Cheers guys - Enjoy & tell your mates.
Last edited by a moderator: