Joined

Sep 6, 2009
Messages

557
Reaction score

4
Points

0
Location
Members Ride

supercharged vt II acclaim
NAME:
Dave
CARS NAME
: -
MODEL
: VT SERIES 2 ACCLAIM, originally an ecotec.. now l67
POWER
: it had 229hp/170rwkw (on a chassis dyno)with- mace tune, 14psi/3.2inch pulley, YT mini cooler, 1.8.1 RR's, hsv catback, and some funky surging(printout's were all over the joint)..
but since then i've done a bit to it- had injectors properly cleaned, got 2.5' extractors + cat pipes, up to 16psi/2.8inch pulley, extra mace mini cooler(running 2x mini cooler core's) and a bigger water pump, and run's a shitload better, and pull's alot harder now.. :w00t:
MODS:
-l67 engine/auto/loom/exhaust conversion 110,000k's ($2000 ebay)
-yella terra stealth/mini intercooler kit, + PWR heat exchanger ($640 ebay/L67T)
- mace mini intercooler plate($100-l67T) running both the mini coolers
- YT 1.8.1 roller rockers ($160 ebay/L67T)
- twin 2.25' hsv catback exhaust . ($20 ebay :rofl2
- 4inch ally intake pipe,pod with enclosure, big home made CAI + stock CAI (all up prob $50-$60ish)
-2.8ich zzp pulley setup ($105 delivered)
-3.08/9 lsd ($200 ebay)
-2.5' stainless extractors ($450 delivered- ebay) ($100 2.5' pipes thru into stock cats)
-vs/zap rails (made myself for $80ish. but it sucked ass)
COST
- stuff all
CONTACTS:
lol pretty much ebay, bunnings, supercheap.... and mace..
everything's been done/fitted by me, with help from L67T :thumbsup:
OTHER LITTLE MODS/INFO:
- blower + lim home-ported to suit cooler..
- stock T/B
- cooler thermostat
- only running new genuine' l67 leads, ngk standard heat range plugs with standard gap and factory l67 coils
- factory l67 fuel pump (ended up staying on high speed/100% the whole time)
- intake's 80-90mm poly pipe, its wrapped in kevlar with 4inch ally over the top to try n keep abit of the heat out (whileist idling at lights for 80% of my travels) seems to work well, used to get too hot to touch ,now ya can stick ya arm in it after hours of driving/idling and it stays cool as....
-still got the stock sloppy bitch of an auto (bloody hate it)
-
NEXT MODS:
- home port u-bend
FUTURE MODS:
-stock hubcaps,
-shift kit,
-new diff or diff gears,
then see what happens..
pretty much anything i can find cheap, or anything i can do to it that wont need a tune i'll do...
2x mini intercoolers. 1x yella terra stealth and 1x mace mini
some vs ecotec rails cut up n made to fit(cheaper option than YT rails)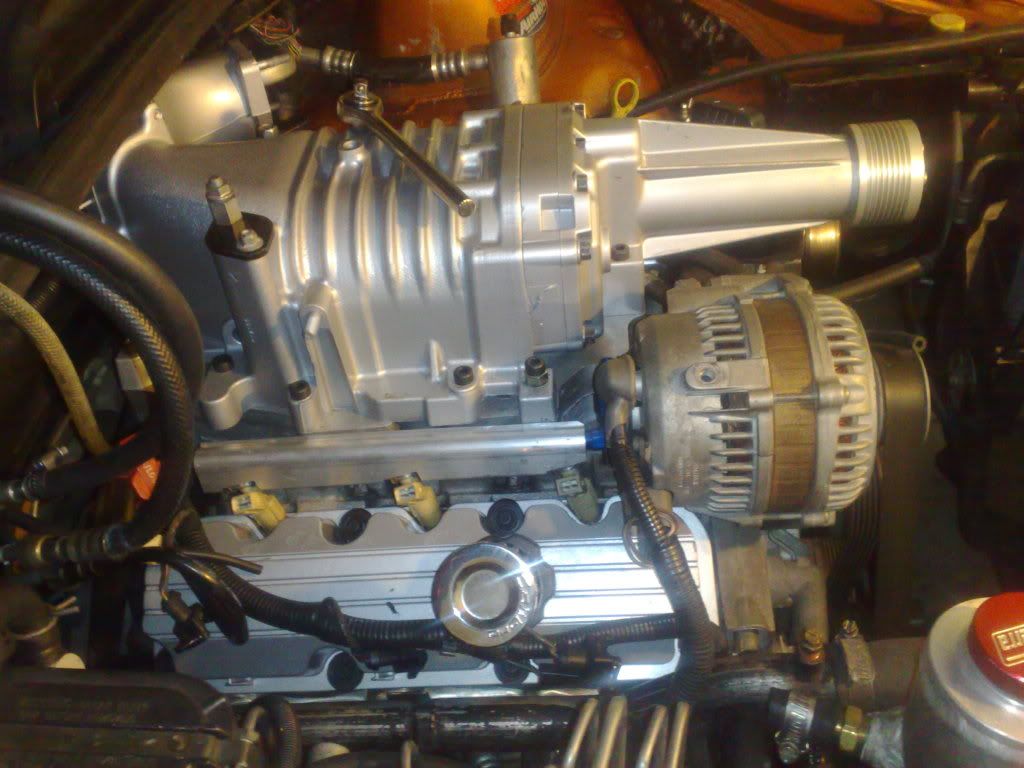 getting there
outside
bit of a cold air intake n front mount for the w2a intercooler
Last edited: