ok, so this mod isnt for everyone, due to the fact that it will suck in hot air from the engine bay, but for anyone that is looking for a cheap upgrade here it is. i did this purely because i dont like flashy chrome. i want my engine bay to look as stock as i can get it, but the air cleaner i have is just waaaay too restrictive on air flow.
you will need;
a drill
hacksaw, angle grinder, some sort of cutting device
die grinder (optional, but handy)
sandpaper, sander
paint
here we have out starting point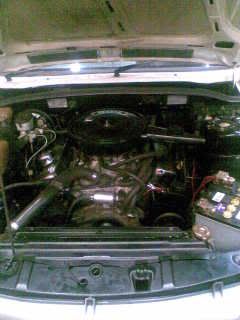 take off the cleaner and look to see if you have the space on the bottom before it goes into the filter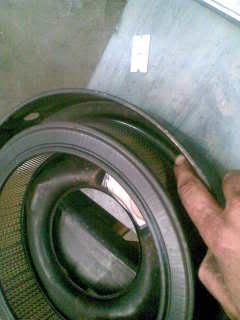 if so, we are good to go. flip the cleaner upside down and punch a few guide holes for your drill so you dont slip, then drill a nice big hole. i used 8mm, but it didnt matter as i used the die grinder later to enlarge it slightly, but if you are stuck with a flat file, it will be asier to get a decent finish if you get the holes EXactly where you want them and the right size.
drill two of these holes then cut as straight as you can to join them up
its important to note that you shouldnt make your holes too long otherwise you will lose rigidity in the body of the cleaner and risk it not sealing properley at the top and bottom. i have cut three seperate holes, two small (front) and one large (rear)
use your die grinder/flat file sander etc to finish the edges nice and smooth
rember; sharp metal cuts and hurts, get rid of it now before you forget about the hole later and slice your finger open of a little #$% of metal
your finished product should look something like this
the hole will let air in from between the filter and the air cleaner wall which increases induction note by quite a lot and will give you a little bit of a boost, but the thing i like about it is that it looks stock!
stick a K&N replacement filter and you are off.