Joined

Apr 13, 2004
Messages

2,257
Reaction score

25
Points

48
Age

34
Location
Website
Members Ride

VK WAGZ 5.0L, GQ Patrol TD42
Owner:
Danny
Ride:
1983 VH SL Commodore Sedan
Engine:
Blue HC 173
Engine Mods:
Fully rebuilt. Bored out 30thou with ACL pistons, Hastings rings, ACL bearings, ACL MT gaskets, Crow 35603 cam, Crow 4028 performance valve springs, shaved head, JP straight cut alloy timing gears, new lifters, pushrods (still need to get), JP hi volume oil pump (still need to get), 2x 12" thermo's.
* In the process of rebuilding the 173, I have bought most of the stuff above already, but still have a few things to go.
Exhaust:
Genie extractors into a cannon out the back.
Clutch / Trans / Diff:
RPM Performance clutch, Borg Warner M76 5 Speed, Borg Warner 2-pinion diff (3.45 gears).
Wheels:
15" Alloys (Look similar to the 16" Momo stars)
Suspension:
Lowered King Springs in the rear.
Interior:
5" Tacho, custom parcel shelf.
Bodywork:
Resprayed in Monza Red, red grille, VK front clear indicators, de-badged, VK front apron (going on next week).
Stereo:
Pioneer DEH P4650MP Head Unit, Cheap 6x9's, Power Acoustic PA240 2 Channel Amplifier, JL Audio e2150 Amplifier, 2x JL Audio 12" 12WO Subs.
Thanks to...
- Aslat Engineering & Auto
- Serge's Crash Repairs
- LMG Performance
- Richards Motors
Future Mods:
Neaten up the interiour, give it a complete respray in Monza Red again, make my boot look fancy with all the stezza gear (instead of a big box with wires everywhere
)
I bought this car for $700 in February 2004 as stock as they come. The only reason I bought it was coz of the 5spd it came with. Everything I have done on a tight budget and until now I haven't taken it to the 'professionals' to get anything done. Getting the machine work done on the motor will be the first time I've taken it to a business to get work done. Everything else I've done by myself with the help of family and friends for some of it.
Here's some pics:
A few days after I got the VH, only mods so far is the chopped springs in the back, and my stereo (different stereo to wat I have now).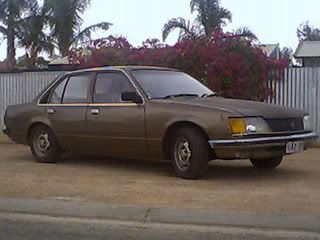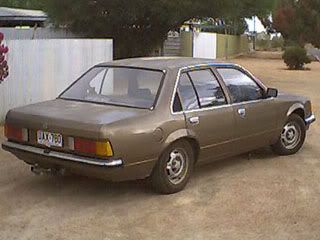 These are the last pics I got with the car complete: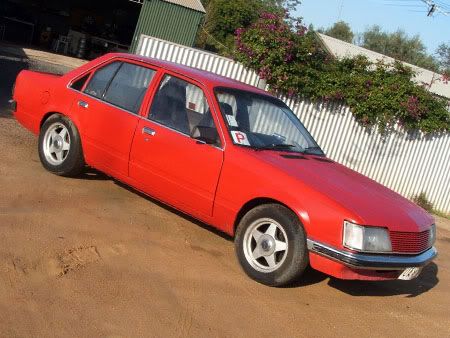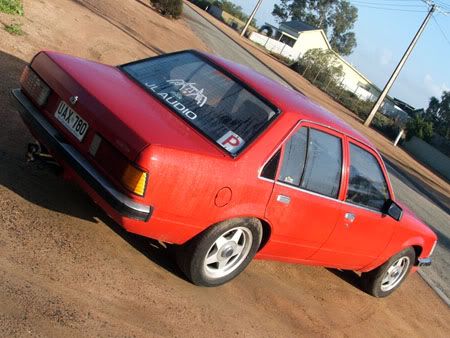 At about 12:45pm on a Friday a few months back I was heading back to work (work experience 4 skool), and I was cruising along in 3rd, then changed back to 2nd to slow down coz the car in front was slowing down to do a u-turn....also doing a u-turn coming onto the road I was on was a coppa, which happen to hear my exhaust, so he followed me up the road a bit then pulled me over....15 mins l8r and I had a new sticker on my front window. I got defected for a bald tyre, oil on the motor, exhaust to loud, no battery clamp and a loose passenger seat.
I fixed everything on the defect notice, except the oil on the motor. I tried degreaser and some industrial strength cleaner, but neither got all the oil off.
I decided to pull the motor and trans out so I could paint my engine bay, and give the motor a wicked clean and put all new gaskets through it.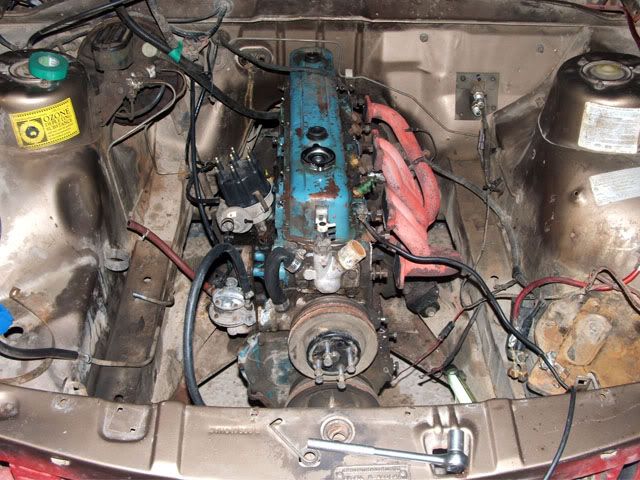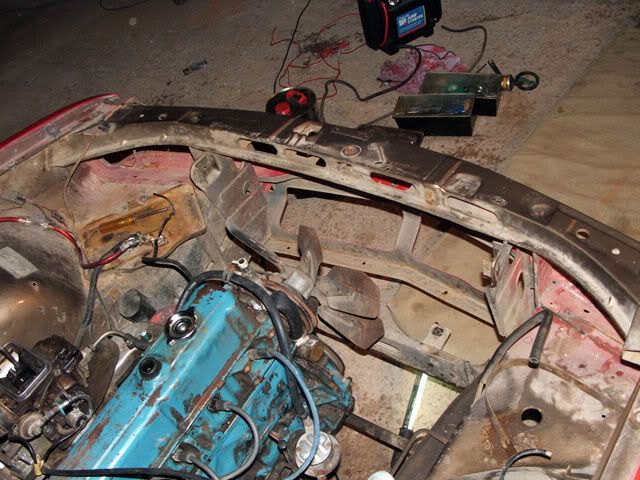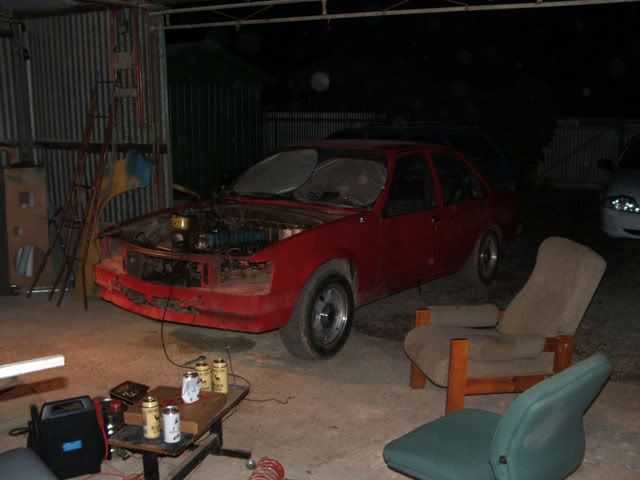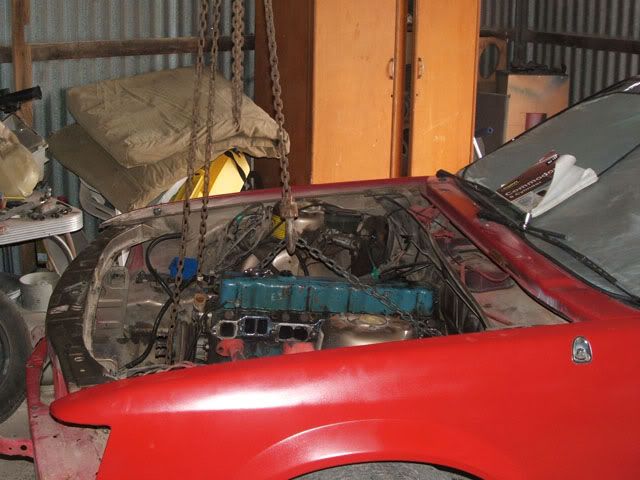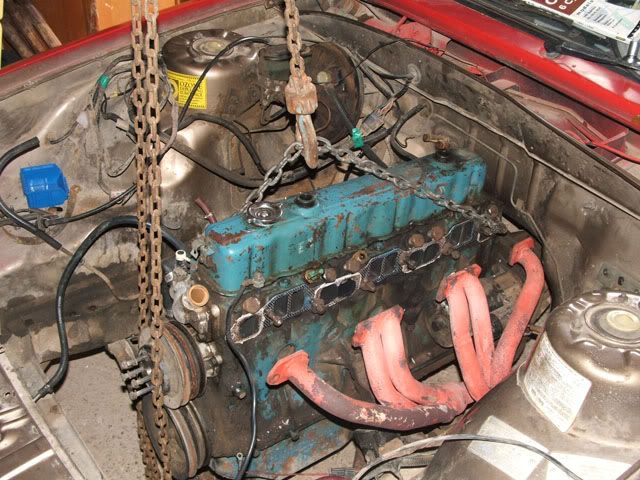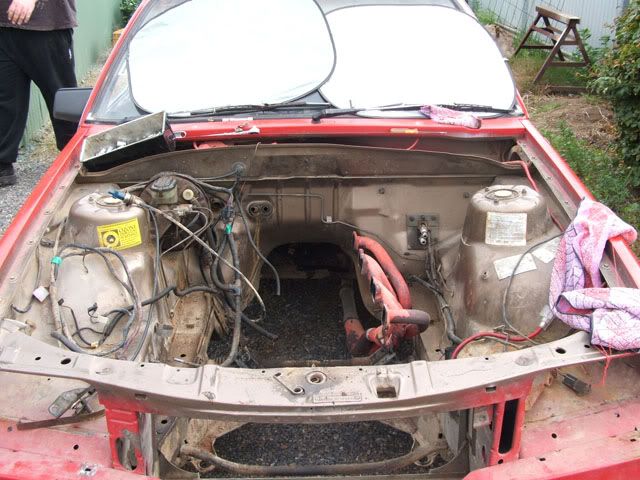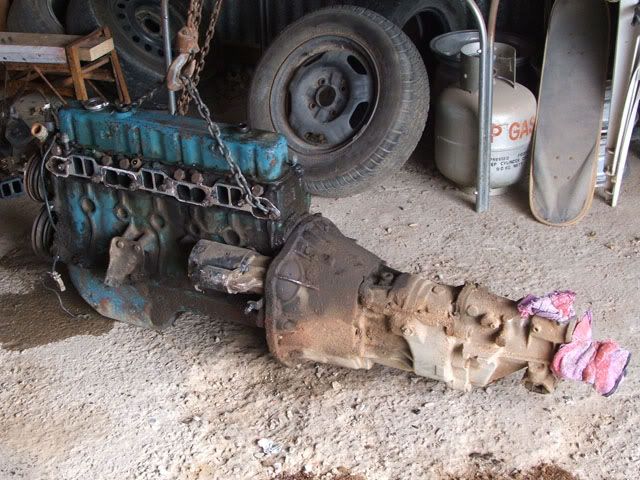 Now the motor is stripped right down. At first I wasn't gonna do a complete rebuild, I was gonna leave the head alone, and also not touch the pistons. But it's lucky I did, coz 4 out of the 6 top pistons rings were snapped, and there's also a bit of slop in the bores. So now I've decided to get a full rebuild, and to fix the slop in the bores I'm getting it bored out 30thou and putting some bigger pistons in. For the head I'm getting it shaved, valve regrind and got some new valve springs to go in. Also getting the head and block acid dipped and cleaned. Right now, the head is still complete, I'm gonna get the pro's to do the work, and the block is stripped down ready to get all the work done.....just need to save up some pennies.
I also painted the engine bay. I took it into Serge's Crash Repairs and did it all myself, except when one of the workers put the clear on.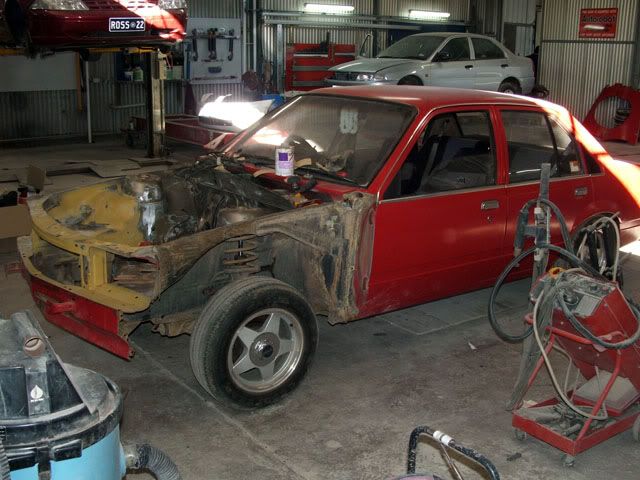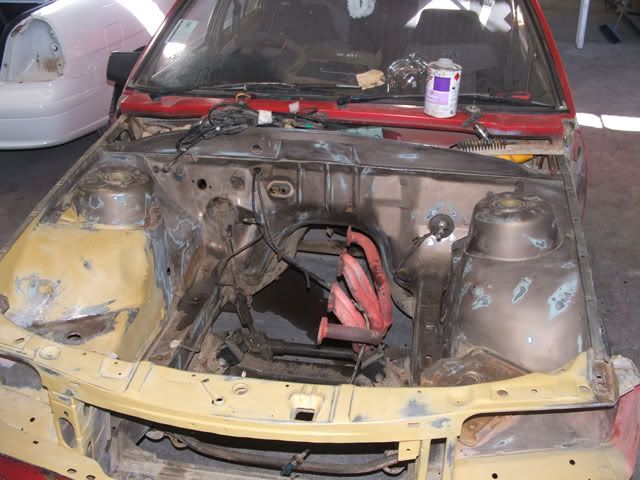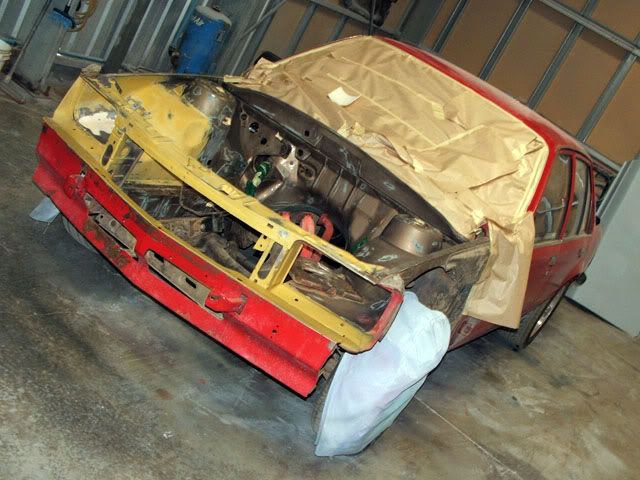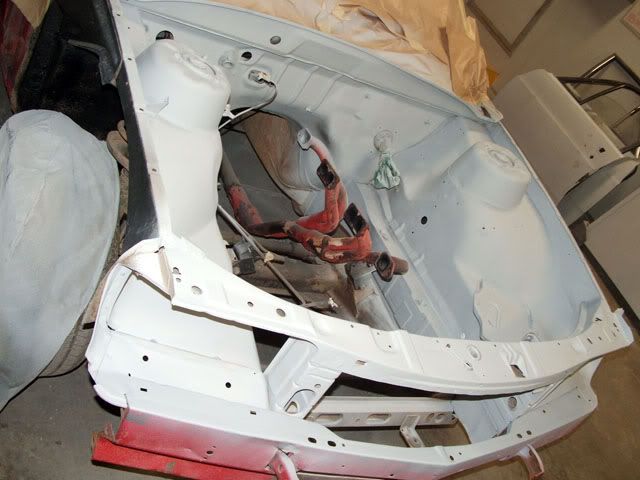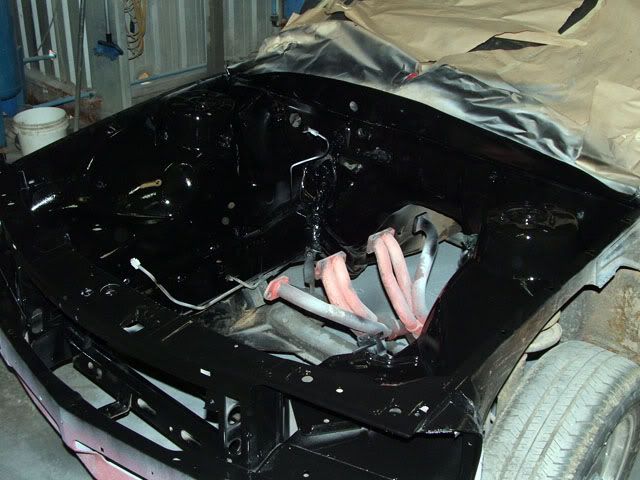 I also resprayed my fenders.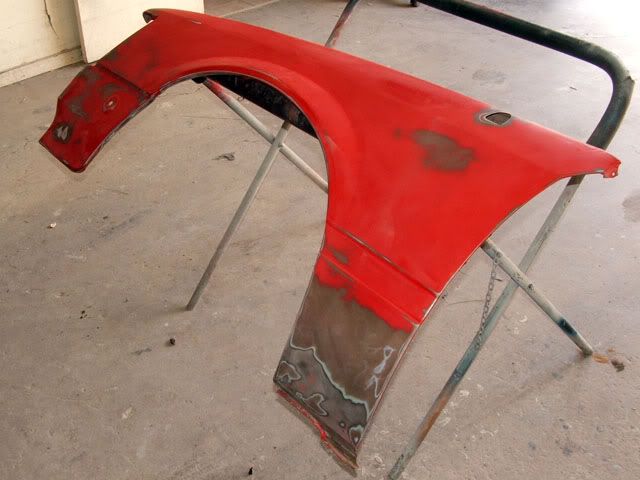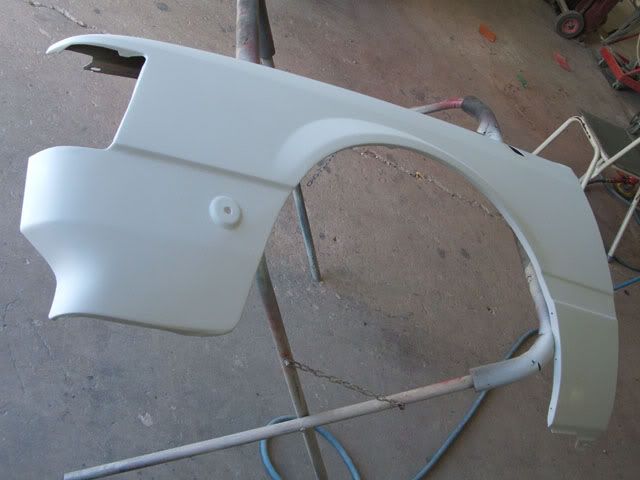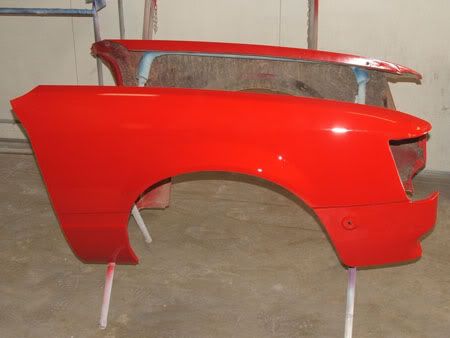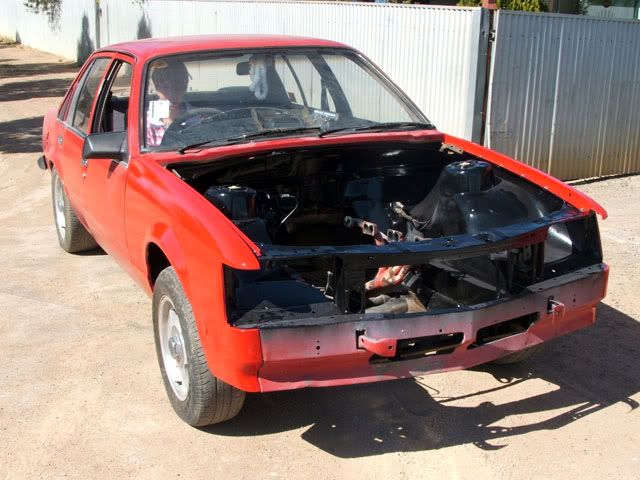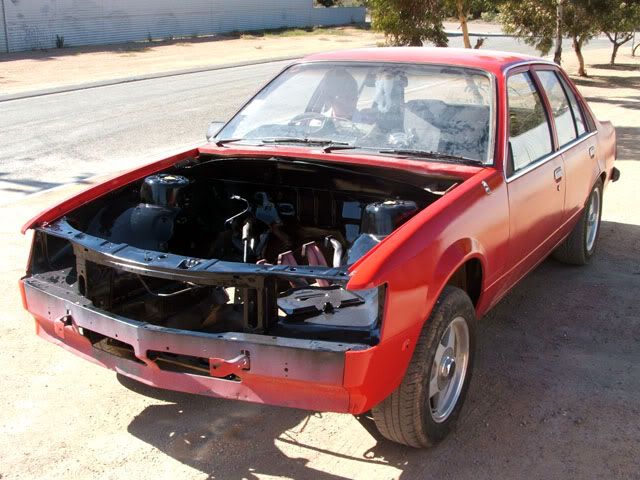 Here's my new VK front apron which is going on next week.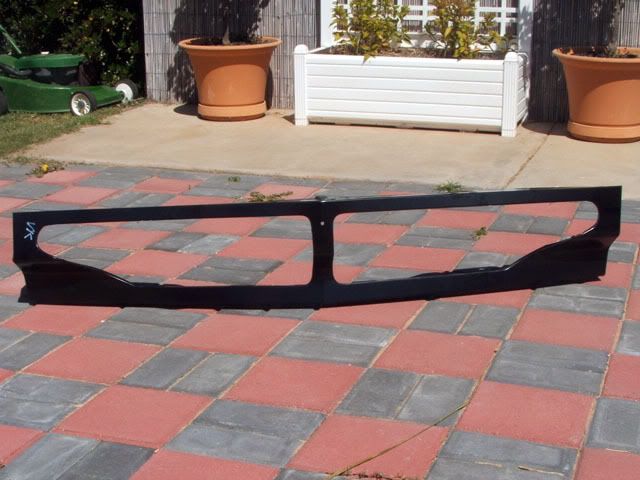 And here's a pic showing some of the stuff I have bought already for the engine rebuild....I now have some more stuff which isn't in the pic.
So yeah.....I'm getting there slowly. :thumbsup:
Let me know wat ya rekon.