My ride
Name:
Zane.
Model:
1991 II Caprice.
Colour
Dove Grey with purple pearl.
Bodykit:
Stock with HSV boot lip.
Engine Type:
5ltr 304 V8.
Engine Mods:
260 crane cam, power chip, 70mm throttle body, gilmer kit, K & N pod filter, au twin thermos, 8mm top gun leads.

Power:
Enough!
Exhaust:
2.5" HSV system with extractors.
Gearbox:
4 Speed auto with shift kit and standard stall.
Brakes:
Stock disks all round.
Suspension:
BMW rear springs compressed 3 inches, ultra low fronts, kmac camber kit, pedders gas rider short shocks, kmac strut tower kit.
Wheels/Tyres:
20" Zenneti heirs (225/35/20) with white walls.
Interior:
Leather, roof mirrors, woodgrain, momo sport wheel.
Other Mods:
VT side indicators, hsv bonnet badge, LR tank, 3x autometer gauges on bonnet, autometer monster tacho, detailed engine bay.
Stereo:
Clarion touch screen $3000 DVD player, PS2, kicker splits, kicker tweeters, subwoofer, etc.
Build Period:
2 months and counting.
Cost:
Alot for a 16 year old.
Contacts:
Shift automotive concepts.
Future Mods:
Airbag suspension, V7 super charger with intercooler, Group A manifold, stage 3 fully manulized shift kit, custom interior, boot install, flush mounted TV's in head rests, chrome handels, BMW M3 mirrors fitted, engine pulled out and all the wires tucked and holes fibre glassed up and re sprayed, SV90 front lip kit, custom center consol with B & M pro rachet shifter, mirror tint and maybe a sunroof.
Bought this a couple months ago fairly stock, this is it now, enjoy!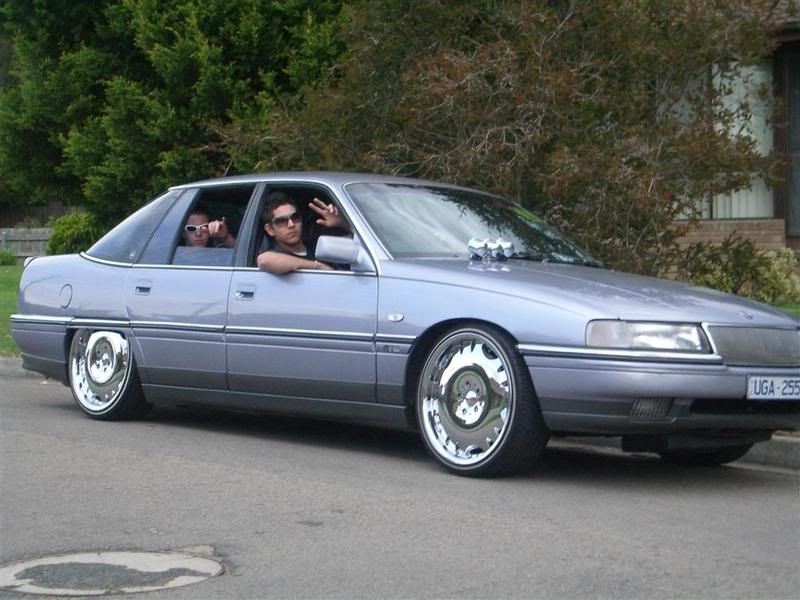 Remember my old ride.....
Last edited by a moderator: