Joined

Jul 2, 2006
Messages

362
Reaction score

7
Points

18
Location
Members Ride

VS Exec SII 4.2L L67 T56 :D
Hey guys, I've been a member of JC since I got my first car (this VS is my first car) in July '06, so I thought it was time I posted my ride up for all to see.
Name:
Daniel
Model:
1996 VS Series II Exec w/ factory manual. It came stock with V5W country pack suspension, no airbags, no ABS, sump guard, fuel tank guard, 16" VR clubby replicas, tow bar, and somewhere along the way picked up a high performance LSD.
Colour:
Sherbrooke green metallic
Odometer:
189,XXX when I got it (July 2006), about 229,XXX now (21/11/2010)
Bodykit:
VS S pack boot lip spoiler
Engine Type:
4.2 litre Supercharged L67
Engine Mods:
4" pod filter in Mace airbox with VN style lid
4" memory wire intake pipe
10.5mm Eagle leads
NGK spark plugs 1 heat range colder than stock and gapped to .9mm
Walbro 255lph intank pump
81* thermostat
Block chemically cleaned, bored and honed
Come Racing Stroker kit:
Nodular Iron Stroker Crank
H beam 4340 steel rods
Diamond Racing Forged pistons
Diamond Racing piston rings
Balanced rotating assembly
Camtech turbo regrind cam
Yella Terra 1.8:1 roller rockers
King engine bearings
New valve springs, retainers and locks
Crane lifters
Manley Generation II severe duty stainless steel valves
3 angle valve grind
Rollmaster double row timing chain
Balance shaft deleted
Ported and polished heads
Cometic 4 layer steel head gaskets
ARP head studs and main studs
Powerbond race spec 5% overdriven harmonic balancer
3" supercharger pulley, pushes about 11psi in the manifold
Boost solenoid deleted
MAFless tuned by Dick's Electronics
6200rpm rev limiter
Running Royal Purple 10w 40
Exhaust:
HM headers to custom twin 2.5" collectors, twin stainless cerametallic race cats, short twin 3" section into single 3" lukey muffler before going over the diff, single 3" tip
Gearbox:
Mal Wood Tremec T56 6 speed manual with short throw shifter, "012" ratios, 10.5" billet steel flywheel and matching cerametallic clutch, custom 2 piece tailshaft, revised pressure plate clamping force, re-sleeved clutch master cylinder
Diff:
Fully rebuilt LSD with 3.5:1 gears
Power:
210RWKW
Brakes:
VT twin piston calipers painted with bright red engine enamel/matt black paint with PBR decals, QFM A1RM track pads, with 296mm gold electroplated curved slotted rotors with non contact areas painted black. 1" VT master cylinder, goodridge braided lines. DBA OE spec rear rotors, non contact areas painted black, with red and black painted calipers.
Suspension:
King springs super lows in front, ultras in rear (removed upper spring insulators, bump stops halved in height) with KYB short shocks all round, adjustable panhard rod, nolathane adjustable strut brace, whiteline 22mm adjustable rear swaybar, nolathane S type heavy duty swaybar link pins, nolathane "fully floating" camber and caster adjustable strut mounts with nolathane strut bearings
Wheels/Tyres:
19" VE SS-V's with Hankook Ventus Sport K104's
Interior:
Saas steering wheel, genuine monaro pedals, monza sports seats in front, custom centre console lid, green neon above a/c, "true green" LED illumination in footwells, under front seats and in boot, green LED security light, green LED key light, switchable on/off interior light (so can be off with doors open), redone rooflining, level 3 cluster upgrade with Phreddied "true green" LED's in lcd windows, custom boost gauge install in drivers door, stato leather rear seat, boot lid carpet, power window conversion with Phreddied "true green" illuminated switches, "true green" illuminated trip computer, A/C and demister buttons, red LED hazard switch, custom "fog lights on" indicator in instrument cluster, aircon controls redone in stock colurs but with LED's also done by Phreddy, VZ HBD 6 speed satin chrome shift knob and matching leather boot with satin chrome stitching, matching handbrake boot, satin chrome steering wheel inserts, MadDad electronic boost gauge series II VS calais leather and velour door trims with satin chrome inserts and genuine chrome door handles
Sound System:
Work in progress, Pioneer DEH-P4850MP head unit with custom ipod dock, pioneer 350w 6x9's in vinyl pods in rear, Scosche EFX-HDX67 6" 300w splits in the front, with Cadence twin 12" subs in complete slot ported box to also go in. Will be running 2 amps, one for front and rear speakers, another for the subs.
Other Mods:
Clear indicators, twin tone air horns, engine start button with green LED illumination, sump guard removed, towbar removed, debadged apart from lions front and back, custom full chrome berlina grilles, calais tail lights, s-pac boot lip spoiler, boot lock delete, painted boot garnish, remote boot release, crystal headlights and indicators (indicators have pearl globes in them so you cant see the orange), LED parker and number plate light globes, 80L tank installed, mudflaps gone, undercarriage sprayed in matt black, fuel/breather lines under car sprayed silver, fuel tank sprayed silver with gloss black straps, polished and heatproof painted metal lines in engine bay, engine block painted gloss black, rest of motor in silver, engine pulleys sprayed gloss black, ZZP polished rocker covers, billet aluminium clutch fluid reservoir, aluminium catch can
Future Mods:
Finish door trims, new window tint, new front windscreen, respray, finish stereo, twin turbo conversion
Here's how she looked when i picked her up back in July 2006, complete with sheepskin seatcovers: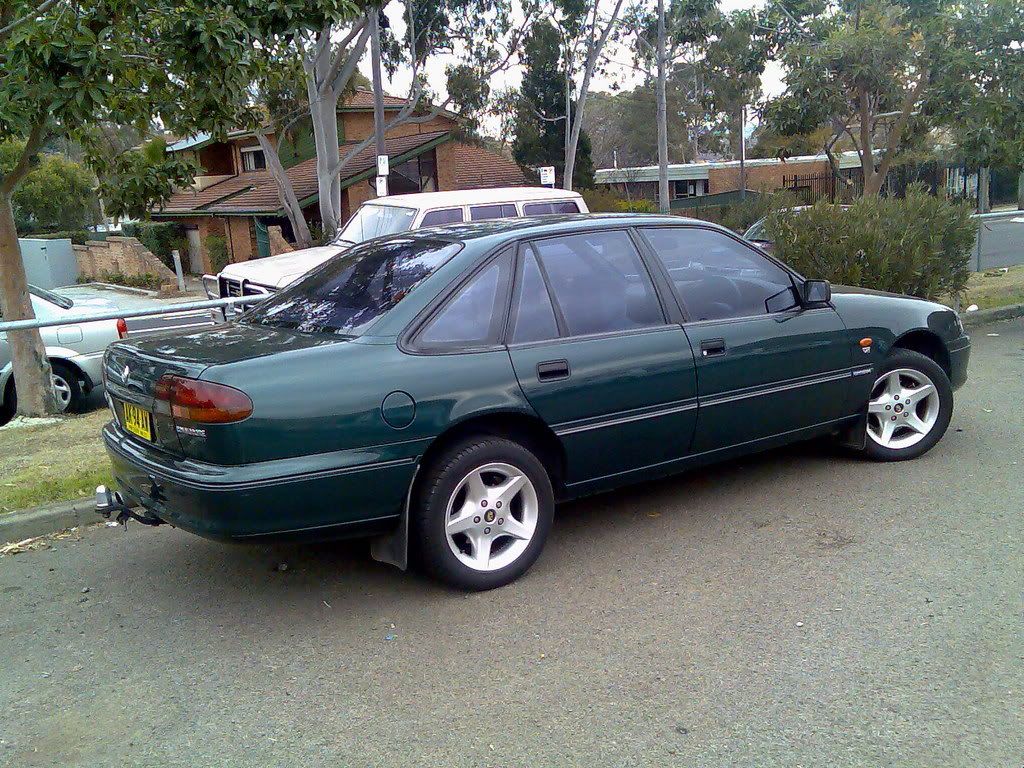 And here's how she looks lately: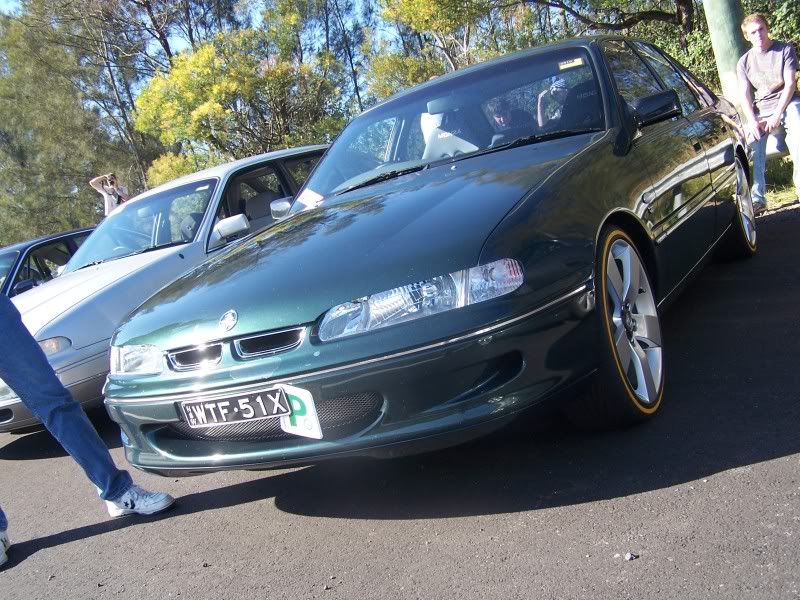 Cheers and enjoy :thumbsup:
Last edited: