Joined

Jun 8, 2006
Messages

1,780
Reaction score

43
Points

48
Location
Members Ride

AMG Mercedes C63 Wagon
Fitting front 30mm adjustable swaybar to VZ V8 senator
I recently fitted a new Whiteline adjustable front 30mm swaybar to my VZ senator and thought this might help those people thinking of doing it them selves but thought it too hard.
Its not too difficult and I did it by myself with one trolley jack and 3 stands.
With 2 people would be a lot easier.
The whole K frame needs to be dropped down as the bar sits on top and the VZ bar has a large droop in the swing arm unlike the VX/vy bar which is nearly flat.
btw Iv'e been told the VX/VY bar can be removed/replaced by only dropping the front of the K frame but unfortunately not so with the VZ becasue of the large droop as can be seen in the pic.
I found it easier to put the front on stands under the chassis behind the front wheels.
Chock the sump with an extra stand and wooden block, I found the screw type stand perfect for this as I was able to adjust the stand until it was taking the weight of the engine.
Remove the nuts holding the engine mounts to the frame.
Undo all the power steer brackets from the front of K frame.
Remove the front castor bush and radius rod from lower control arm.
then remove the swaybar D bracket bolts but leave the upright links conncted to take weight off the K frame.
Disconnect steering gear from shaft
Then undo all 4 K frame bolts and lower the K frame as far as you can ( with 2 people you can easily handle this without a jack).
The frame will only drop as far as the still connected steering rods and lower control arm will allow.
Undo the swaybar to strut links and manouvre the old bar out taking note of where the Power steer line sit in relation to the swaybar.
Instal is basically the reverse just guide the engine mount bolts thru the K frame and make sure when all back together and lined up go back and remove each K fame bolt one at a time use some threadlocker and lots of torque on each bolt.
start with the fronts as they actually locate the frame square to the chassis.
The rears sit in a larger hole and don't locate the frame but help hold it up.
As you can see it also a good time to replace the front castor bush and the rear bush if you so wish as taking the radius rod out makes it a lot easier to drop the K frame.
check everything like engine bay bolts, steering gear connection, pwr steer brackets etc.
Took me about 4hrs taking it slowly so as not to injure myself or break something.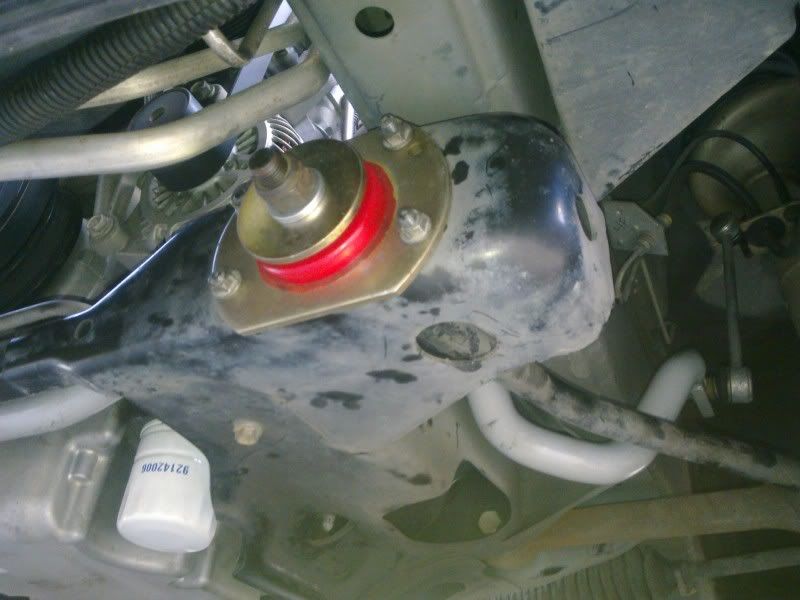 Last edited: