383ci HTV2300 blown LS1!!
Joined

May 3, 2010
Messages

250
Reaction score

1
Points

18
Location
Members Ride

VY SS ute STROKED/BLOWN
thought i'd start a new thread as the ute has gone in a different direction.
here it is:
Holden VY SS serries II ute 2004
Engine:
LS1 383ci, Harrop HTV2300 blower (upgraded rear glimer belt), Water to air intercooler, Callies Compstar 4" 4340 forged crank, Compstar H beam 4340 forged rods with ARP2000 bolts, Clevite H series bearings and 3.905" SRP forged dish pistons 9.5:1 cr, ARP head stud kit, ARP main bolts, Cometic mls head gaskets, Melling HV oil pump, Crow double row roller chain set, VCM3 (228, 238, 112), Compcams kit - dual springs, tool steel retainers, machined moly valve locs, hardened valve seats, viton stem seals, Hi Tech moly 0.080" 7.400" pushrods, 2ltr surge tank, Bosch 044 pump, 60lb injectors (i think..).
Exhuast:
Diffilippo stainless 1 3/4 extractors, Diffilippo stainless twin 3' system.
Fuel system:
standard tank, standard intank pump, 2ltr surge tank, 1x bosch 044 pump (2nd is on the cards)
Driveline:
standard T56, Textralia Z grip clutch, GM motorsport Ripshift, standard diff/ CV's, standard shaft.
Wheels/Suspension:
20x8' Zennetti Kaotik black wheels, lovells ultra low springs, standard shocks...
ICE:
Alpine double din head unit, standard speakers. Autometer Cobalt Boost/ Oilpresure guages.
Future mods: better gearbox (upgraded T56, wanna stay manual), finish stero job, leather seats, tidy up engine bay.
ute is still in the shop being finished with the stroker and blower fittment. will upload pic's and vids when its finished
pictures:
old setup Cam, OTR, tune, exhuast 372HP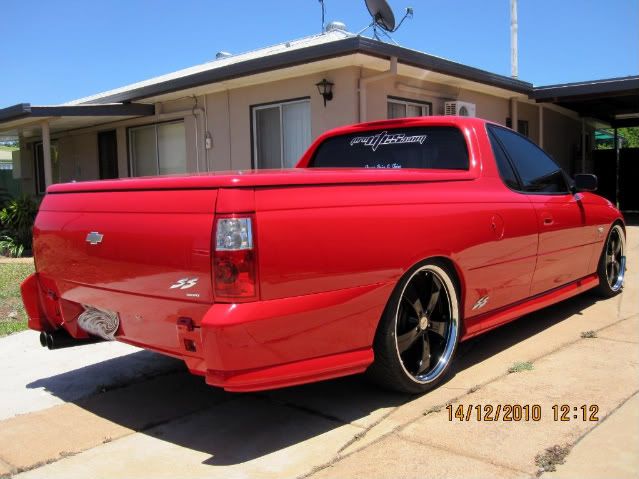 Last edited: