Joined

Apr 13, 2004
Messages

2,257
Reaction score

25
Points

48
Age

33
Location
Website
Members Ride

VK WAGZ 5.0L, GQ Patrol TD42
RIP202 - VK Wagz 308
Long story short, started rebuilding my VH, lost interested coz I wanted a wagon, so bought one for $350.....then the project started! :thumbsup:
Vehicle:
1984 VK SL Wagon
Engine:
1.
Blue 173 2.85L inline 6.
- Bored out 130thou to a 186 3.0L.
- Chemically cleaned block.
- Fully balanced up bottom end.
- Flat top pistons.
- JP Straight cut timing gears.
- JP Oil pump.
- New fuel pump.
- New waterpump.
- New starter motor.
- New alternator.
- Rebuilt Varajet carby.
- Motavator extractors.
- New lifters.
- Crow cam.
- Crow valve springs.
- High compression 173 head, shaved a further 10thou.
- All new ACL rings, bearings and MonoTorque gaskets.
- New harmonic balancer.
- New Top Gun gloss yellow 8.8mm Pro Racing Series leads.
- Shaved flywheel.
2.
Red 253 V8.
- Bored out 30thou.
- Flat top pistons.
- ACL Monotorque gaskets.
- ACL rings & bearings.
- JP timing gears and chain.
- Dynotec Stg 4 cam (2700-5700rpm).
- Redline Maxitork single plain manifold.
- Speed Pro LT1 valve springs.
- Nason lifters.
- Chemically cleaned block and heads.
- Heads shaved.
- New harmonic balancer.
...still more to come, haven't finished this donk yet!
Trans:
1.
Borg Warner M76 5spd.
- RPM heavy duty clutch.
2.
Aussie 4spd.
- Xtreme heavy duty clutch.
Diff:
Borg Warner 78 series out of a VK wags.
- 25 spline LSD.
- 3.23 gears...lookin for 3.9's.
- Disc brakes when I can find a set.
- In the process of getting rebuilt with all the goodies and new bearings and seals.
Suspension:
- Monroe shortened shocks all round.
- Lowered King springs all round.
- Nolathane strut brace.
- Nolathane adjustable strut mounts.
- Nolathane adjustable pan hard rod.
- Nolathane upper and lower trailing arms.
- Nolathane bushes throughout the whole car.
- New ball joints and tie rod ends.
Brakes:
- DBA cross drilled and slotted rotors with Bendix pads.
Wheels:
- 18" mags....dunno wat sort they are.
Interior:
- Sports steering wheel.
- Autometer 5" tacho.
- Speco 2 5/8" oil PSI and water temp gauges.
Other:
- Smoothed out engine bay, all unnecessary holes welded up or plated over.
- Battery relocated to the back.
- New after market fuse rail, moved to the glove box.
- 4 door central locking.
- Top of the range Mongoose alarm and immobiliser.
The VK is getting there slowly. Spent the last few weeks working on the engine bay (took 3 weeks
), got it painted last Friday. I built the motor up at a local engine builders workshop, that took ages coz the machinist took his time. The motor has been completed for a few months, brought it home the other day (it was gone for 10 months all up). Put the motor and trans in 2day.
Have bought lots of gear for it, lots of little stuff which I can't remember
Here's some pics:
The VK a few days b4 I bought it.....that's me in the pic...ticking sumfin off my list of things to check.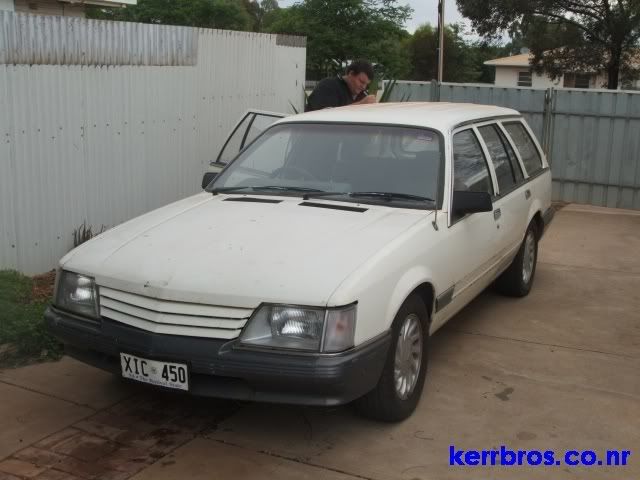 The motor out of my VH. I decided to use this motor mainly coz of it's sentimental value. For the 3 years I thrashed it for, it never let me down. It always got me home (except when the diffs blew). It got to the stage that I'd rev it to 3000rpm and it would start smoking like a train down the road. So I thought I'd keep this motor and rebuild it to sort of 'repay' it. And yes I know I'm a huge softy haha :whistling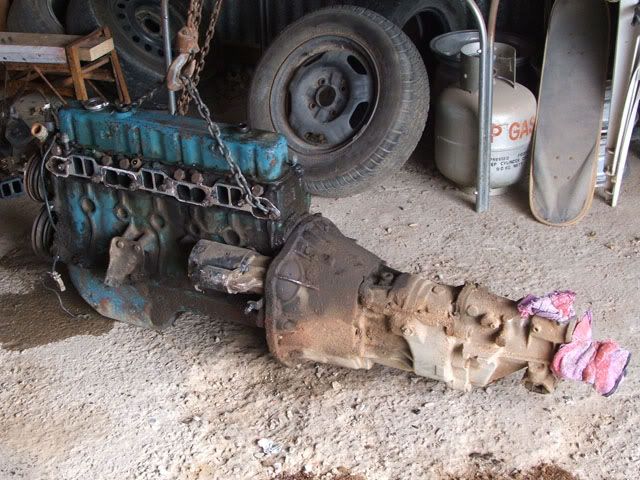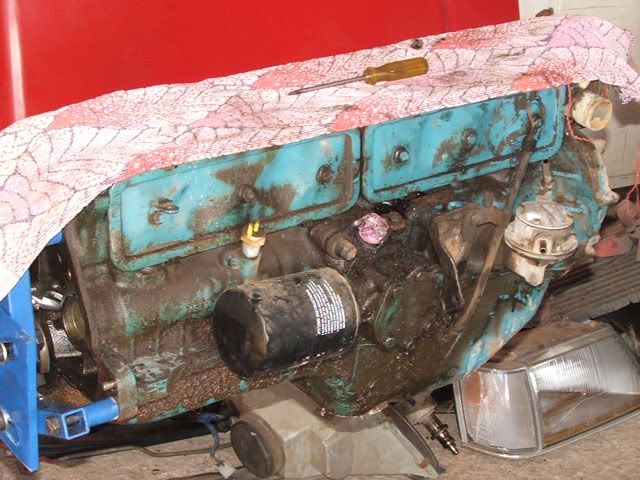 Here's a pic with 17" VT SS wheels I bought for it.
The front strut assembly. The struts I pulled from a wreck, cleaned them up with the wire wheel on a drill, took them back to metal and painted them.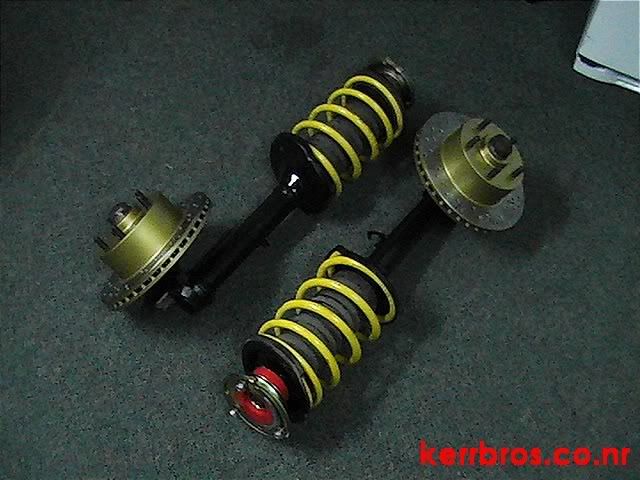 The steering rack I pulled from a wreck, cleaned it up with the wire wheel, took it back to metal and painted it, chucked new tie rod ends and boots on it.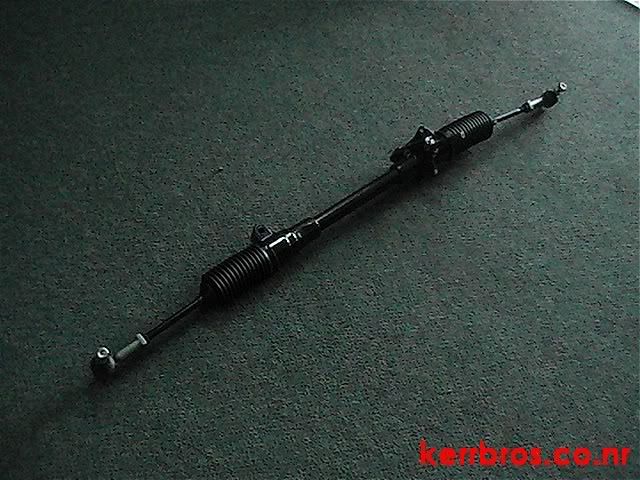 The kframe and wishbones I pulled from a wreck. Cleaned them up with a wire wheel, got them acid dipped, then painted them.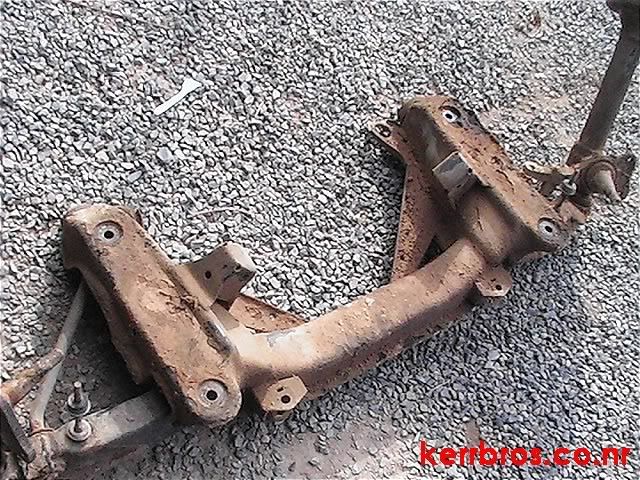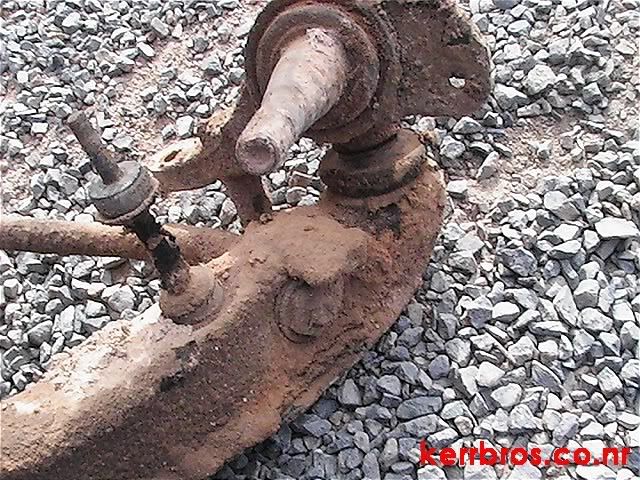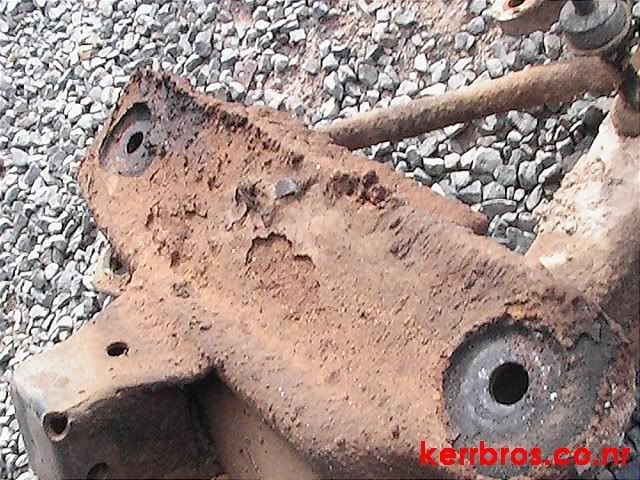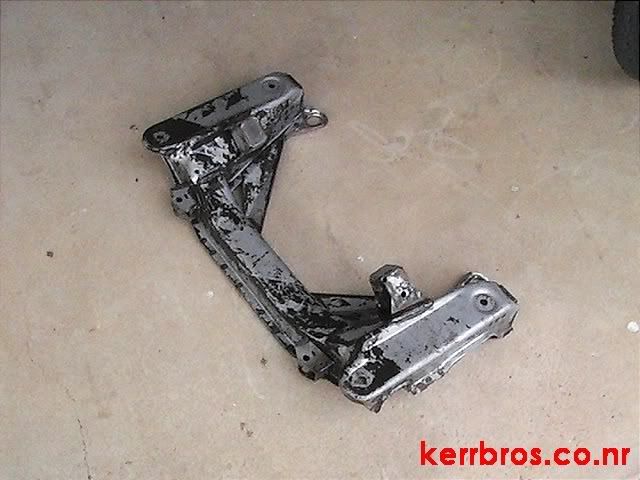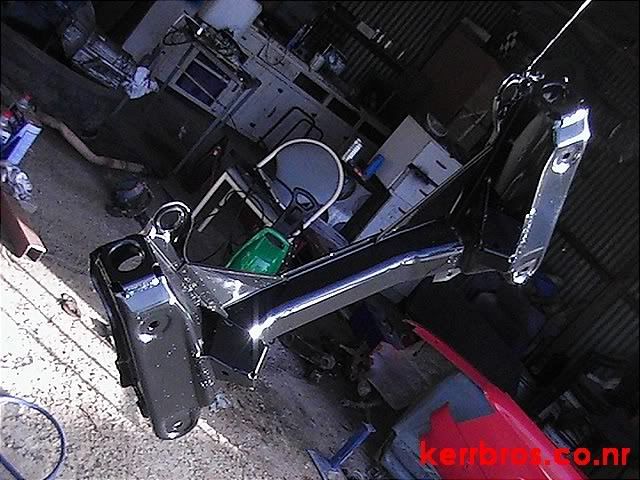 The motor 95% completed.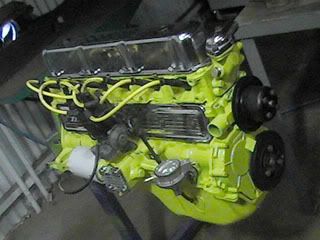 The custom gear shifter boot I got off ebay. I got the girl to make it white with black stitching.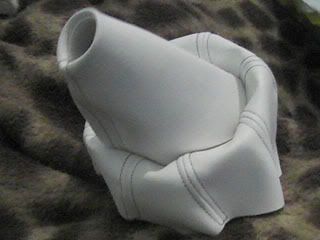 The engine bay getting stripped.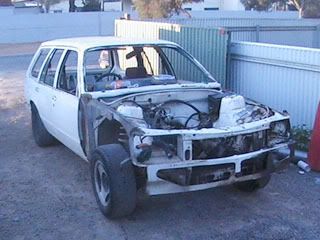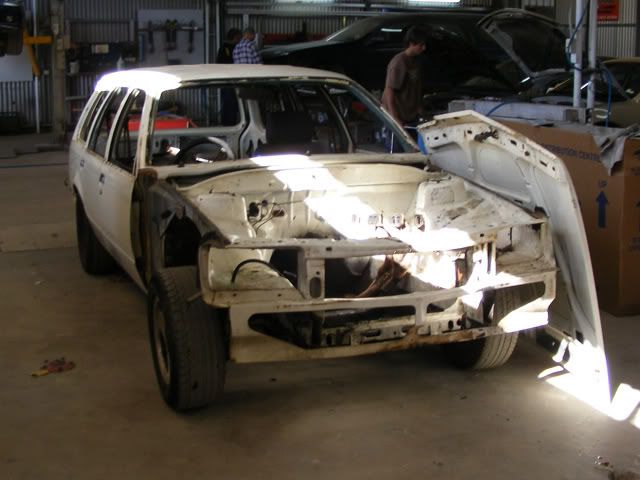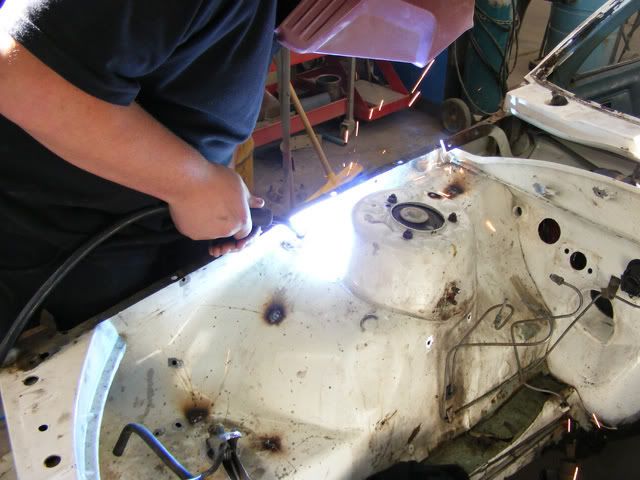 The trans tunnel I wire wheeled and chucked on a coat of underbody spray/sound deadener gear.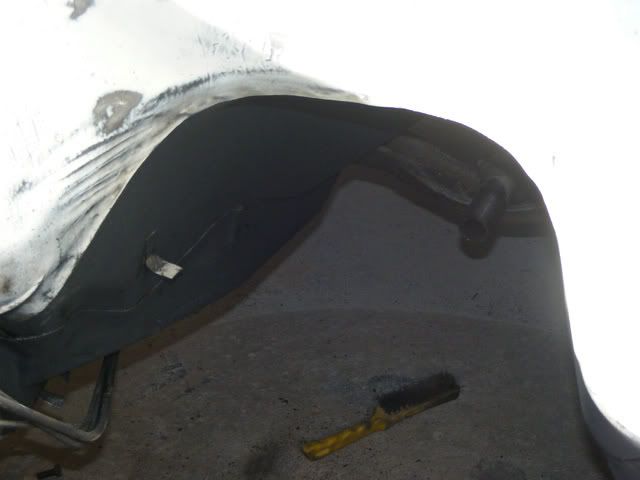 Also used the same stuff on here. Wire wheeled then sprayed.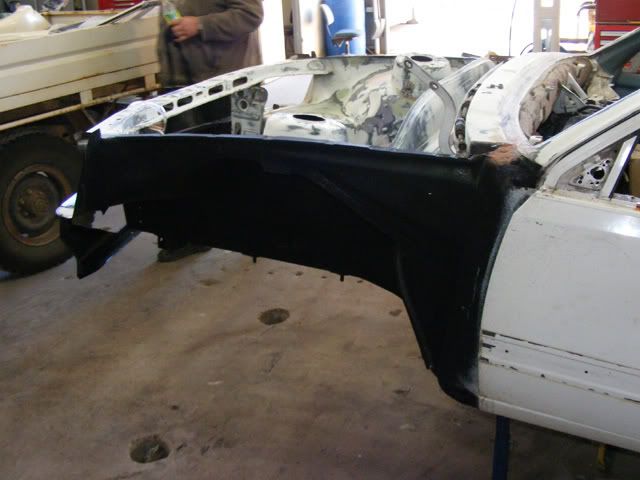 Primed.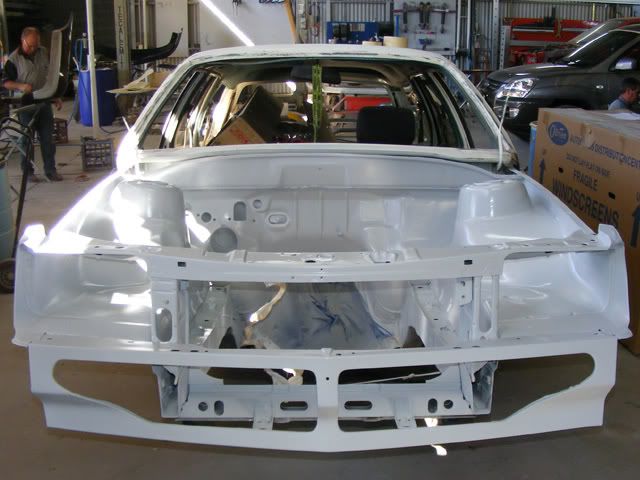 Time for paint! - Thx to Jamie for painting it.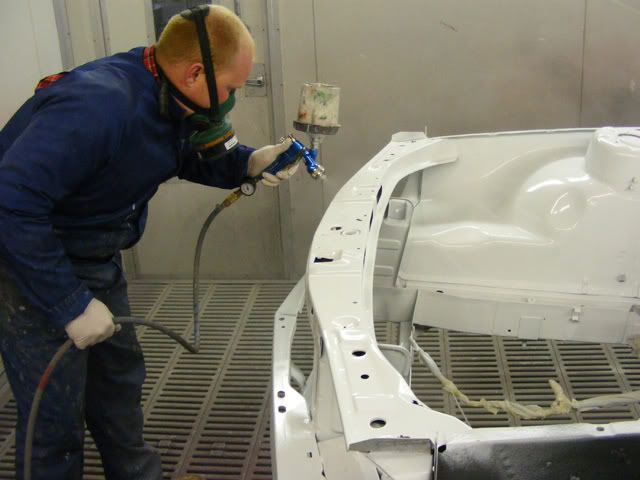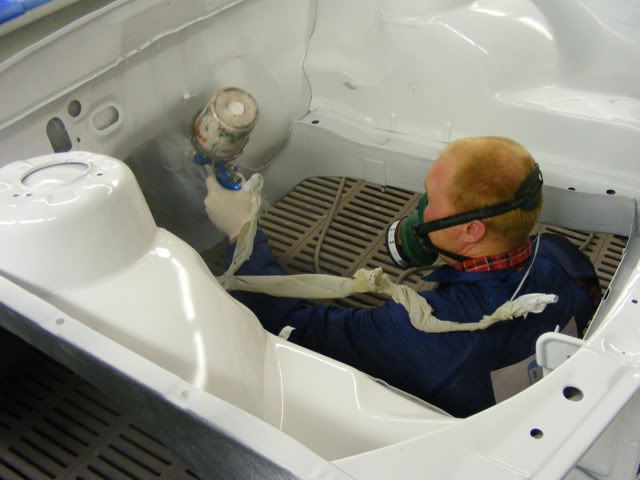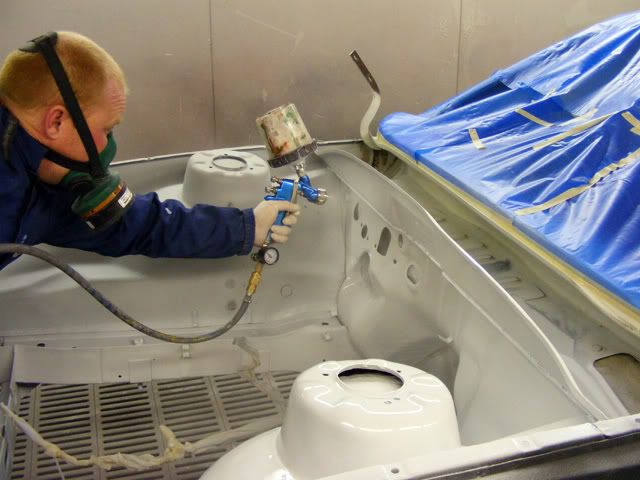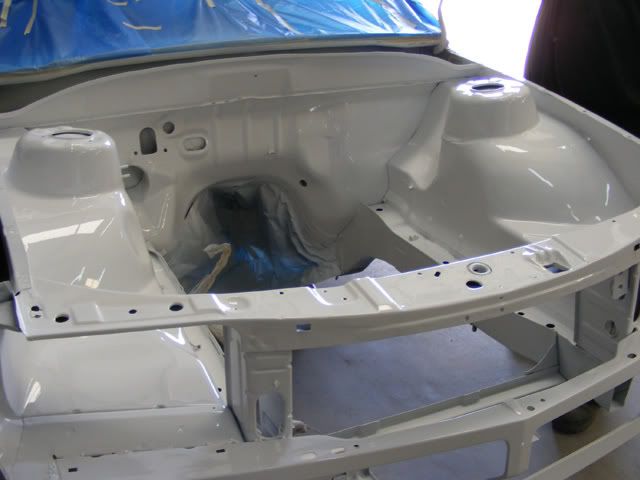 And the latest pics which I took today.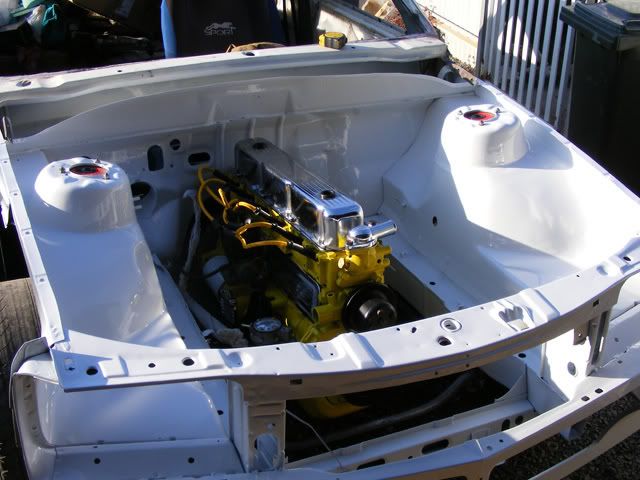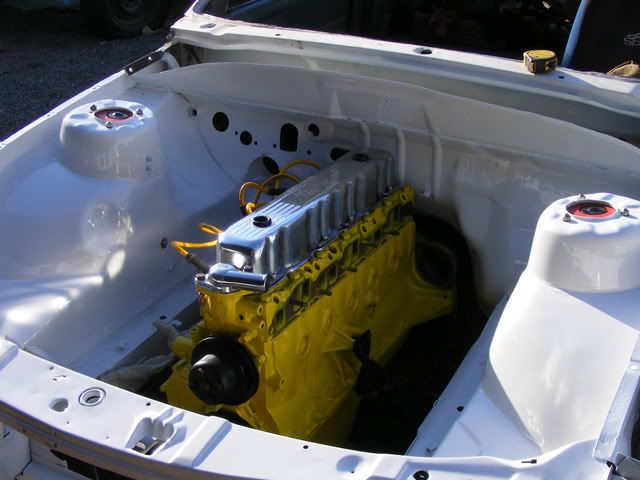 And yeah that's about it so far. I rekon the next time the motor comes out I'm gonna paint it white to match the car......would look 100x better I think. I don't mind the yellow, but I just think white would look a lot neater and cleaner.
Lots of people have helped me during the buildup of my VK. So here's a quick thx list.
- Brad (Member on here, username PEAKN6)...he's my little bro and I couldn't of got this far without him. In fact it was Brad that brought home an advert on a notice board for the VK wags when it was for sale....so if it wasn't for him I wouldn't have it.
- Mum...ya always gotta thank ya Mum.
- My boss Serge from Serge's Crash Repairs.
- Everyone from Serge's Crash Repairs. Especially Jamie for painting it, Randall for helping out and everyone else for putting up with me and my wags...except Marcus coz he gave me a fat lip
.
- John and Simon from Richards Motors.
- Paul from LMG Performance.
- Paul and Rodney from P&J Wrecking.
- The guys from AutoPro and Repco.
And anyone else who I've forgotten (not coz you ain't important, I just have a bad memory
)
I still have lots to do so there will be heaps of updates.
Once the car is ready to run, I'll trailer it to LMG Performance, and put it on the dyno to start it and to get a few k's on it. This is so it's in good hands if anything shall go wrong. :thumbsup:
Then I'll bring it home again, then take it in to get the rest of the respray done.
Last edited: