Joined

Feb 28, 2009
Messages

648
Reaction score

0
Points

0
Location
Members Ride

03' M6 VY SS ute
S2_VR_'s VR Wagon
Hi Guys & Gal's, i been a member on this site since Febuary and decided to make a serious attempt at this thread.
OK Before you start Reading This is a kind of "Budget Build", Being a Student and having no income for the last 5 months makes it hard to do up my car.
Name:
S2_VR_
Model:
VR S2 Executive
Colour:
(2-Pack) Marenello Red
Bodykit:
Executive
Engine Type:
3.8L Buick, 175,XXXkm
Engine Mods:
High Flow Panel Filter, K&N High Flow Oil Filter, 8mm Top Gun Leads.
Power:
Gonna Dyno It in like 3 Months. (after i bolt some new **** on CAI, 5 Speed, just few other things)
Exhaust:
2.5" Lukey Cat Back Exhuast System, Stock Headers.
Gearbox:
Rebuilt From The Ground up Auto Tranny, And Just Bought A Manual Conversion for it so wont Be long till it's in.
Diff:
LSD. (as of Today!!) LOVE two wheels spinning) lol
Brakes:
Standard,
Suspension:
Lowest Pedder's available.. Part No. #2275 In Front, "Low" Kings in back. (trying to Find Money For Ultra Low Sedan Springs)
Wheels/Tyres:
18" 5 Spoke (dunno wat brand)... I want 5 Spoke 20"s of somekind or elanors...
Interior:
Black and grey (havent finished painting)
Stereo:
2x 12" Cadence Subs, JVC **** Headunit (does the job), Sony Crap in Doors.
Other Mods:
Clear indicators, Berlina Wood Grain Door Cards, Berlina Crome Door Sil's..
Future Mods:
Where To Begin??...
CAI
Greenfoam Tune
T5 Conversion (Got everything for it sitting here)
Tint "Cargo" Area Windows
Berlina Wagon Chrome Window Surrounds
Closed Door Respray (Same Colour)
HD Ultra Low Sedan Springs
Monaro Bonnet
Whitewalls - To Make Those Tiny 18"s look Bigger!!
Fully De-badged, Black Door Protectors Removed. (When it gets spray Job).
Sub Enclosure, Across Back of Cargo Bay, Behind the seat.
Pictures: Oldest - Newest
Day I Got It....
Few Days Later...
Wreck i Bought For Berlina Parts....
After I Lowered The Front Of The Car....
Tinted "front door and rear door windows (from Berlina)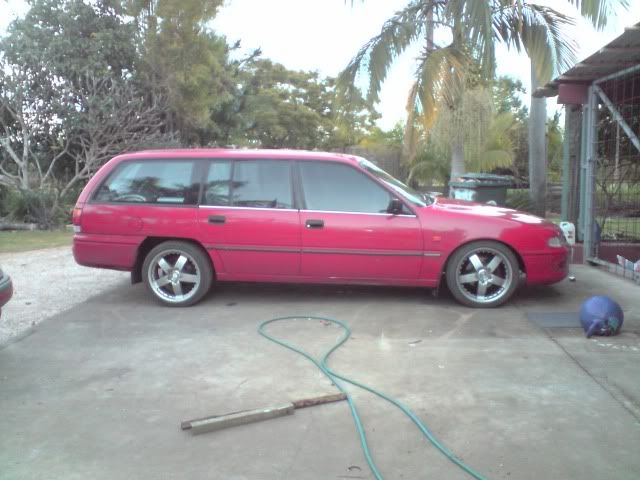 King Spring "LOW" or "SL" in Back......(Better Pics Soon)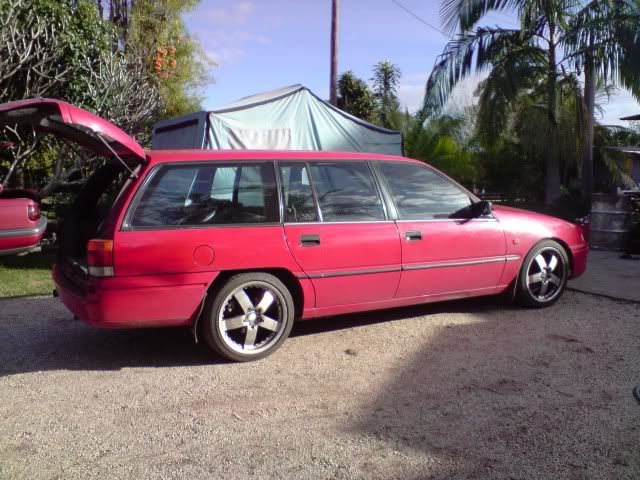 As It Stands Today....(Not For Long Though...)
Keep Tuned For More Pictures... Should Be Up Tommorrow.. or Today....
So, Tell Me What You Think...
Last edited: