Sydney: WTD: VZ SV6 factory exhaust -any condition- got one lying around?
DESCRIPTION: Wanted / Trade: SV6 factory exhaust-
any condition
ITEM:Front mufflers or/and Resonator in any condition- will take the whole section if you have it.
LOCATION: Sydney NSW
CONDITION: Any condition
DELIVERY/PICK UP INFORMATION: Will pick up
PAYMENT OPTIONS: None I hope
CONTACT DETAILS: Email:
[email protected]
, PM or 0410004564
OTHER INFO: Any condition will do.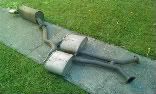 Last edited: