Hi guys just a few pix of my heater core / system overhaul i did a few days ago.
Special Thanks to "
Thumpin
" for his help!! Cheers Mate
Before I start Please note that i was quoted $1,600 + Parts from an Air Con Repair Shop and $3,000 + Parts from Holden in New Zealand to have this attended too. I am not a mechanic but do have a knack for tearing things apart.
Tools you will need
:
1 x Socket Wrench
1 x 10mm Socket
1 x 20cm - 30cm socket extension bar
1 x Phillips Screwdriver
1 x Neednose Pliers
1 x Disassembly Instructions supplied greatfully from Thumpin.
NOTE: If you can put together a kitset computer desk then this is no different, If you cannot then find someone who can! :whistling Follow the instructions and keep a mental not as to what screws go where.
Tip: I found that remembering that the screws with a point go back into holes with the plastic retainer plug and the flat end screws for into metal only holes.
I am not going to explain much as it is just really dissasembly and is self explanatory.
Here we go....
Step One - Remove Dash Fascia (Surround)
Step Two - Remove Lower Right Dash Under Steering Column
Step Three - Remove Glove Box and Centre Console Side Panels
Step Four - Remove Dashboard Cover
Note: 5 Bolts at the base of the windscreen and dash you will need your Socket Wrench, 10mm Socket and Extension bar for this as it is very tight and hard to work with.
You should end up with this...
Step Five - Remove the Passenger Airbag Support Bars and Remove HVAC Bolts
NOTE: MAKE SURE YOU HAVE DEGASSED THE AIRCON UNIT BEFORE COMMENCING FURTHER!!
NOTE: MAKE SURE YOU HAVE FLUSHED ALL THE COOLANT OUT OF THE SYSTEM BEFORE COMMENCING!!
In this step you will need to remove the Passenger Airbag support bars, a few bolts and screws.
Then you will need to disconnect any air ducts, which they should just pull off.
Next you will need to pop your engine hood. MAKE SURE YOUR A/C HAS BEEN DEGASSED SAFELY. Mine was already degassed luckily.
You will see five bolts along the firewall you will need to un-do these as these are what anchor your HVAC unit inside you car. Also you will need to unscrew your A/C pipes from the firewall by unscrewing two small star screws and a bolt this is located on the passenger side on the firewall in the engine bay. Now un-do the heater core pipes. if you cannot undo like mine just cut them with scissors and replace them.
Once you have unbolted the HVAC unit from the firewall, jump back inside the car and slide the grommet down as shown below and remove the HVAC unit.
Once removed it should look like this now..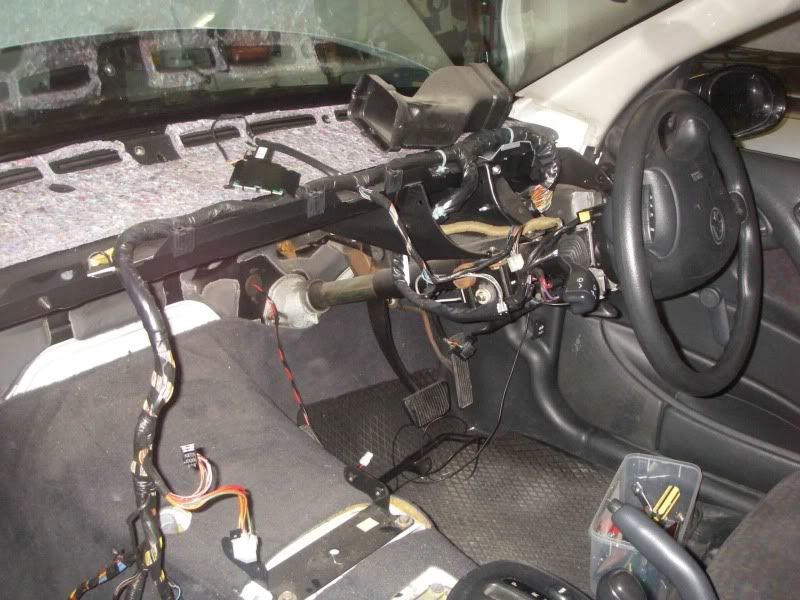 Step Six - Remove Heater Core and Replace
The heater core will just slide out from the HVAC unit where you can now slide in a new replacement unit. I replaced mine with an aftermarket brass one which was $100 cheaper than from Holden.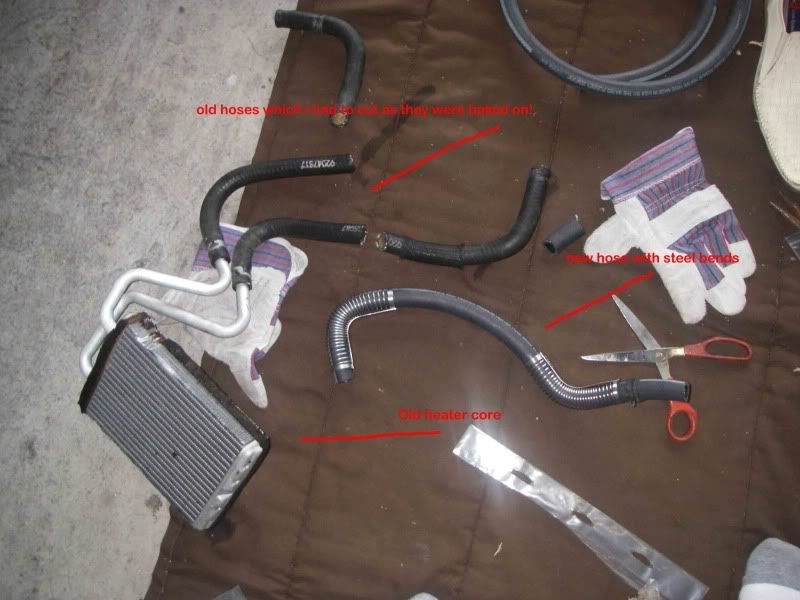 Step Seven - Replace heater Tap with New One
Since my Holden had a redirected heater system i didnt know which component was at fault so but assumed it was expensive as they opted to redirect that to repair. There are only three compoments really - Heater Core, Heater Tap Valve & Hoses. I replaced all three for good measure while i was in there :thumbsup:
***PHOTOS TO COME***
To install the hoses and heater tap is very easy. Just undo all the hoses and remove the heater tap, replace heater tap and attach new hoses exactly how it was before.
Step 8 - Double Check all clamps and bolts etc.
Check all hose clamps, bolts and screws are secure so we can now refill the coolant.
Step 9 - Refill Coolant
Refill Coolant as directed.
Step 10 - Wipe down before test run.
Wipe down any water spillage on hoses so when you test the car you can see if anything is leaking.
TURN HEATER INSIDE CAR TO HIGH AND FAN ON FULL. NOW START THE CAR. ONCE CAR IS RUNNING BLEED THE COOLING SYSTEM USING THE BLEED VALVE AND TOP UP COOLANT AS REQUIRED.
Once you have done that you're all done.
PS: Will be adding extra photos soon.
I hope that helps some of you guys and saves you some hard earned money at the same time.
Good luck and hit me up if you get stuck.
Special Thanks to Thumpin :bow:
Make sure you bleed the cooling system also while you are testing.
If any of you guys would like to add anything further please do
Last edited: